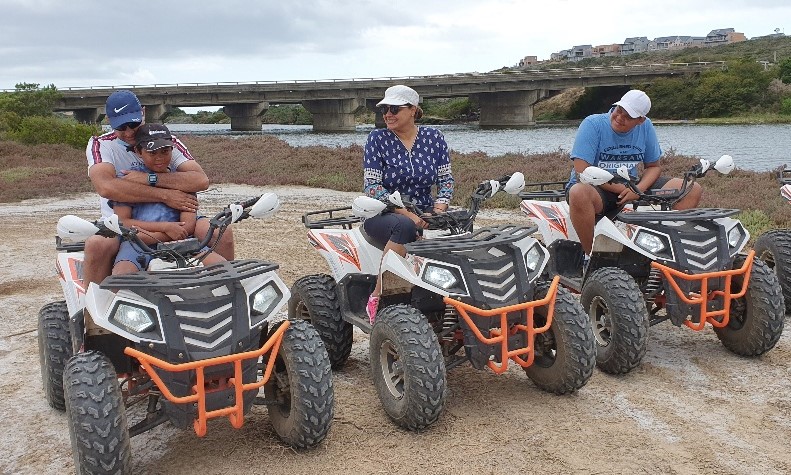 From R150 per ride.
We are your quickest access to quad biking in Mossel Bay. You simply cannot talk about visiting Mossel Bay and not mentioning Mossel Bay Quad Biking.
We now offer a variety of ride distances to enable you to tailor-make your holiday planning.
2km – (R200)
5km – (R375)
8km – (R550)
Hours:
Mondays: 09:00 to 16:00
Tuesdays : 09:00 to 16:00
Wednesdays: 09:00 to 16:00
Thursdays: 09:00 to 16:00
Fridays: 09:00 to 16:00
Saturdays: 09:00 to 16:00
Sundays: 09:00 to 13:00
Experience an unforgettable quad biking adventure with a guided tour around our 5km track. For your convenience, all our quads have an electric start and equipped with automatic gearboxes. There is no shifting, except if you need to go in reverse. We will provide you with detailed driving instructions.
Hold on tight as you ride across sandy tracks, sending you bumping and shaking. Absolute beginner or experienced rider.
First-timers are always welcome (every experience comes with a quick introduction and safety lesson), as are quad biking veterans looking for a relaxing ride.
No matter who you are, where you're coming from or where you're going, quad biking is an absolute must.
Riders younger than 12 years can only be allowed as a passenger with an adult, at no charge for the younger rider.
To prevent disappointment, it is best to complete your booking online. If you have concerns on using online payments, please contact us through our contacts page to help you with your reservation and alternative payment method.